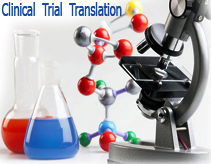 Somya Life Sciences has expertise in translation of clinical research for new drugs, research in human issues like Population, communities, markers of disease presence, stiffness or improvement,  case series, case-control studies, cross-sectional studies, medical devices etc.
The Purpose behind a clinical trial is to confirm the Safety and effectiveness of new pharmaceuticals or medical device before they are affirmed by the regulatory authorities. Because, medical devices and drugs just impact on human beings, clinical trials are an indispensable part in the development of a healthcare related item.
Translating medical documents requires not depends only grammatical accuracy but also a clear perception and theme understanding, technical terms, and huge experience. Somya Life Sciences has a team of Translators are scientifically educated and belongs to the medical domain. A document of Clinical Research Trial Translation is just not translating documents into target language. Different types of documents their separate audience, when translating your documents by our expert team we keep in mind your target audience to maintain the essence of original documents true.
Somya Life Sciences can handle all kind of your clinical trial translation projects:
Clinical Trial Research
Informed Consent Form
Patient Information Leaflet
Patient Information Sheet
Investigator Brochures
Case Report Form
Clinical Study Report
Scale
QOL Questionnaire
Oncology
Cognitive De-briefing